SANCOM Logistics is leading company in transport cargo from Vietnam to Laos with ownership of dedicated large trucks and a variety of different trucks from 1 ton to 60 tons. We not only provide cargo transport services from Vietnam to Laos, but also provide customs clearance at Vietnam and Laos for many years. With professional team in the field of transport, international shipping, freight forwarding, logistics and supply chain management to international clientele in collaboration with team experienced in the transport of goods to and from Laos, SANCOM Logistics has sufficient capacity to meet the transport and customs clearance needs to reach destinations at any province in Laos including mountainous and the border provinces.
We could handle almost cargo such as generators, electronics, elevators, conveyors, machinery, chemical, fertilizer, animal feed, electric cables, woods, furniture, household goods, agriculture products, textile and garment, shoes, automobile spare parts... Stuffed in container or break bulk, oversized, overweighted cargoes will be smoothly handled by most suitable solutions. The most popular place of collections and deliveries in Laos such as Phongsaly, Hatsa-Phongsaly, Muang Sing-Luang Namtha, Luang Namtha, Houayxay-Bo keo, Oudomxay, Muang Beng-Oudomxay, Pak Mong, Huaphanh, Luang Prabang, Sainyabuli, Phonsavan, Muang Kham-Xiengkhuang, Vang vieng, Vientiane, Paksan, Laksao-Bolikhamsai, Khammouane, Thakhek-Khammouane, Savannakhet, Sepon-Savannakhet, Salavan, Sekong, Pakse-Champasak, Attapeu ...
Following the success 15 years experience in transport cargo to and from Laos, we are commited to provide a service:
Safety
Effectiveness
Savings
Responsibility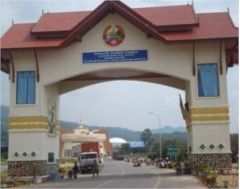 Our ground freight services division offers a broad range of land transport services, including transport cargo to and from Laos. Whether a truckload delivery across country and globe, a merge-in-transit operation or customs clearance service at Vietnam and Laos border, SANCOM Logistics can handle it for you. Our partnership with the leading trucking lines focuses on one goal "providing the most cost-effective and smooth trucking and freight services to our customers", based on good experience with many years in doing transport between Vietnam and Laos, SANCOM Logistics commit to our customers with our vast truck team and always deliver cargoes to our customers on time and meet our customers need for general and special cargoes, while offering a variety of flexible options to choose from:
Less-than truck load - LTL
Full truck load - FTL
Van and refrigerated trucks
Project cargoes handling
Oversized and overweight cargoes transport
Transport cargo to and from Laos, to and from Cambodia
Standard and specialty flat-bed, enclosed and refer trailers
Perishable, refrigerated goods services
Packing, crating, wrapping services
Exhibition cargoes handling (Lao PDR, Cambodia, ...)
Consolidation services, direct shipments
Loading and unloading
Our deep understanding of the geographical distance and terrain in accordance with import-export operations in Laos will help us transport all kinds of cargo to Laos with competitive cost and rapid procedure.
Customs clearance services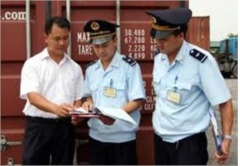 SANCOM Logistics provides customs clearance services for all types of export and import cargo with professional, experienced and enthusiastic staffs. We specialize in international trades and customs procedures. We take great pride in our ability to facilitate customs clearance quickly, efficiently and consistently meet customer's deadlines.
Transshipment services
SANCOM Logistics offers transshipment services, including customs clearance all ports and then trucking shipment and border clearance to Laos. SANCOM Logistics is especially strong in transport cargo to and from Laos and customs clearance at Laos and Vietnam.
Our services and products
Transport cargo to and from Laos
Transport cargo to and from Cambodia
Sea freight, Air freight
Consolidation services
Door to door services
Courier express services
Multimodal transport
Customs clearance
LCL/ FCL services
Shipping agent
Documentation services
Logistics services
Domestic transport (road, rail, waterway)
Dangerous goods services (IMDG Class 1~9)
Perishable, frozen goods services
Warehousing and distribution
Packing, crating, wrapping services
Cargoes insurance services
EXW/ DDU/ DDP terms shipment
Move and install factory's equipment system
Oversized cargo, overweight and project cargos transport
Exhibition cargoes services in Vietnam and overseas (Lao PDR, Cambodia, ...)
For more information, please contact us: